If pets are part of your family, you schedule regular veterinary visits to ensure the health of your furry friends. Consider additional protective steps you can take during Pet Insurance Month, observed in September.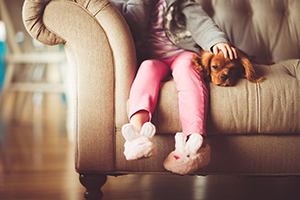 What is Pet Insurance?
Similar to health insurance for humans, pet insurance helps you pay for the expected and unexpected health care your pet needs. You may choose from a variety of policies.
Accident – Pay for the treatment of unexpected accidents or injuries like animal bites or poisoning but not illnesses or diseases.
Accident and Illness – Treat broken bones, ear infections, diabetes, and other accidents, sicknesses, diseases, and pet health changes.
Routine, Preventative Care or Wellness – Cover annual exams, vaccinations, flea control, and teeth cleaning.
You may also purchase endorsements or riders. They cover specific issues that aren't included in your regular policy.
Your policy will include limits, too. Choose the annual, lifetime, per condition, or unlimited lifetime limit as you prepare to provide your pet with the best possible care.
Keep in mind that pet insurance includes exclusions based on your pet's age, breed and hereditary conditions. Your policy could also be denied because of a pre-existing condition, such as a diagnosed illness or disease.
Review your policy carefully to ensure it meets your needs. For example, ensure the policy covers cancer treatment before you schedule the procedure so you're not surprised by a denied claim after your next vet visit.
How do you use Pet Insurance?
Pet insurance allows you to see the veterinarian of your choice. You'll pay the veterinarian out-of-pocket and then submit a claim to your pet insurance company. After you pay your deductible and any co-payment, you'll receive reimbursement as per your policy terms.
How much does Pet Insurance Cost?
Your pet's age and breed affect your pet insurance costs. Other factors include your location, the type of policy you purchase, the deductible, benefit limit, and reimbursement percentage. Discuss your needs and budget with your insurance agent as you purchase the right coverage for your pet.
Why Would you Purchase Pet Insurance?
Ultrasounds, blood work, dermatology treatment, and other medical and surgical procedures can cost thousands of dollars. With insurance, you can afford the treatment your pet needs. It also allows you to seek medical treatment as soon as possible rather than put off diagnostic or treatment visits. You can and insurance to choose treatment rather than euthanasia for your beloved pet, too.
During Pet Insurance Month, learn how to enhance your pet's quality of life and give your furry friend the medical treatment it needs and deserves. This valuable product protects your pet and could save its life.