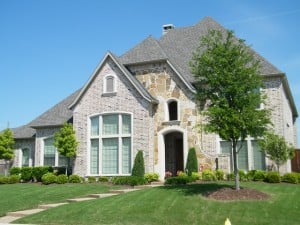 This year, many parts of the country have enjoyed such a mild winter that even in the Northeast, spring weather seems like it's just around the corner—if it hasn't arrived already.
Take advantage of the moderate temperatures to get a head start on what should be an annual spring home maintenance routine.
EXTERIOR INSPECTION
"It's good to do a walk-around of your property, especially after a storm," says Curtis S. Niles, Sr., owner of Armored Home Inspections, Upper Darby, PA, and president of the National Association of Home Inspectors (NAHI). "Winter is tough on roofs and chimneys." It can also take its toll on windows, walls, foundations, gutters and decks.
Roof. You don't need to climb up there yourself; with binoculars and a keen eye, you can probably spot trouble. Do you see any shingle-shift, suggesting that some fasteners may have failed and need replacing? Any cracked or missing shingles? What about nail-pops? "We call them eyebrows," Niles explains. "It's when nails push the tabs of the shingles up, allowing water to get in where those nails are coming through." All will need to be addressed to keep your roof at peak performance.
Chimneys. If you have a masonry chimney, check the joints between bricks or stones. Have any fallen out? Is there vegetation growing out of them? Each signals water infiltration. Also, look for efflorescence—"a white calcium-like deposit that indicates your masonry joints are no longer repelling water but absorbing it," says Niles. Consider re-sealing masonry with a clear, impermeable or water-resistant barrier material (like Thoroseal products). Brush it on, small areas at a time; let it absorb for 15 minutes, then reapply—it may need a couple of applications.
Exterior Walls. Whether you have wood siding, stucco or brick, look for trouble spots, especially under eaves and near gutter downspouts. Water stains normally indicate that your gutters are not adequately containing roof runoff. If you have wood siding, check for openings, damaged areas or knots that have popped out, making way for carpenter ants, woodpeckers and other critters that may nest in or burrow through.
Foundations. When inspecting the exterior of your home, be sure to examine the foundation from top to bottom for masonry cracks. "Routine caulking by homeowners won't do the job," says Niles. "Hire a foundation specialist who can employ a two-part epoxy injection system that will bond cracks chemically," he adds.
Windows. Leakage around windows will admit warm summer air and let cooled indoor air escape, so be sure to check that any caulking and weather stripping you have in place has remained intact. "A tight seal is the first line of defense against air and water," says Marty Davis, marketing manager, Simonton Windows, Columbus, OH. If you experienced condensation inside the glass on double- or triple-glazed windows during the winter months, the weather seal has been compromised, and either the glass or the window will need to be replaced.
Spring-clean your windows—inside and out—with a store-bought or homemade window cleaner (one cup rubbing alcohol, one cup water and a tablespoon of white wine vinegar will work just fine) and either a squeegee or a soft cloth. Never use abrasive cleaners or a high-pressure spray washer. You don't want to scratch the glass or crack the caulking around each unit. If screens were on all winter, remove and clean them with mild detergent. Lay them on a dry surface, like a driveway to air-dry before putting them back on. "Never power-wash screens," urges Davis, "it could damage the mesh."
Read the entire article here.
Content provided by http://www.bobvila.com/articles/2355-spring-home-maintenance-checklist/