Nearly 13,900 PG&E customers in Santa Cruz County woke up today to a dark Monday morning, as the utility shut-off power to over 350k customers in 36 counties beginning Sunday night.This is a preventive/safety measure to reduce the chances of utility equipment sparking a wildfire as the State of CA is experiencing unprecedented strong winds and low humidity levels.
The next time you experience a power disruption, take these steps to protect your home, valuables and family.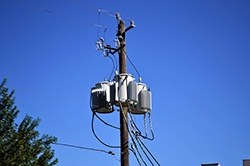 Call the power company. Report the outage and any downed lines, and sign up (online) to receive alerts when the power returns.
Check the circuit breakers. Be sure they're turned to the "on" position so the power will automatically turn on when it's restored.
Never touch downed lines. They're deadly.
Use battery-operated flashlights or lanterns. Candles or oil lamps can be fire hazards, so rely on battery-operated light sources.
Stay warm during winter power outages. Bundle in layers, gather your family and pets in one room and shut the doors. You can also use your wood stove as a heat source if it's clean and functions properly.

Stay cool during summer outages. Dress in lightweight clothing and hang out in the basement. You'll also want to stay hydrated. If the power outage lasts for an extended time, drive to a mall, movie theater or other cool location.
Preserve food. In general, food will stay safe in the refrigerator for up to four hours and in the freezer for up to 48 hours, but try to avoid opening these appliances. Wrapping these appliances with blankets might provide further insulation and food protection during short outages.
Fill your water jugs if possible. Grab your spare containers and fill them with water to sustain you during the outage.
Turn on the water. Let your spigots drip to prevent freezing water pipes during winter outages.
Unplug major appliances. Your appliances could be damaged by the surge that sometimes occurs when the power comes back on, so unplug all your appliances and electronics except your fridge or freezer. Consider keeping a single lamp or other electric device plugged in so you know when the power is restored.
Use your generator with caution. Only turn on your generator if it's installed outdoors, properly connected to your home and fueled properly.
Don't grill indoors. The carbon monoxide could kill you.
Check on your neighbors. Verify that your neighbors are safe, especially if they're elderly or disabled, and share any water or food with them.
Stock an emergency supply. After the power returns, prepare for the next outage. Stock non-perishable food, water, flashlights, batteries, a first aid kit, and pet and baby supplies, if necessary.
Review your homeowners insurance coverage. Your policy may cover food losses, power surge damages, burst pipes, and even hotel expenses that you incur because of a power outage. Contact your insurance agent for more details.
A power outage can occur at any time, so be prepared. These steps help you protect your home and your family.