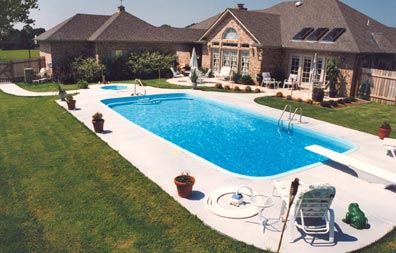 Summertime fun often includes swimming in the pool. Whether you already have a pool in your backyard or are thinking about putting one in this year, you may wonder if your home insurance will cover your pool.
Personal Liability Coverage
If someone is injured while swimming in your pool, the personal liability coverage on your homeowners insurance policy will pay for it. Update this coverage amount when you install your pool to ensure it's sufficient.
Related Structure Coverage
Your insurance company may classify your new in-ground pool as a related structure, similar to a storage shed or detached garage. Increase the related structure coverage on your homeowners insurance policy to cover damage to your pool. Keep in mind that this coverage won't pay for pool maintenance.
Geography Matters
Find the majority of backyard pools in warm climates. Based on this fact, insurance costs for your pool may be cheaper if you live in the warmer southern states and more expensive if you live in cooler northern states.
Erect a Fence
To prevent accidents in the pool, many insurance companies stipulate that you surround your pool with a fence that includes a self-latching gate. Consider whether or not you have the space and ability to erect a fence before you install a pool.

Consider the Diving Board or Slide
Some insurance companies won't cover accidents that happen on the diving board or slide. That policy will influence whether or not you install one of those pool accessories.
Consider an Umbrella Policy
Even if your homeowners insurance policy covers your pool, consider an umbrella policy. It provides extra coverage after your homeowners insurance limits are met. The extra protection gives you peace of mind if you need to file any pool-related claims.
A backyard pool provides hours of fun every summer. Before you install one, though, talk to your insurance agent. Get all the facts.