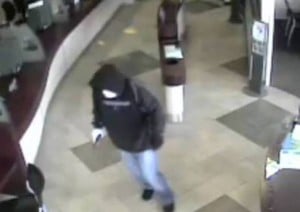 A Watsonville bank robbed on Friday is offering up to $5,000 for information that leads to an arrest in the takeover-style armed heist, the FBI announced this week.
FBI agents and Watsonville police detectives are investigating the afternoon holdup at  Bay Federal Credit Union in the Freedom Center. The two robbers came into the bank around 1:15 p.m., brandished a gun, ordered about 15 customers and employees to the ground, then stole an undisclosed amount of cash, police reported. As they fled, the robbers fired a single gunshot into the floor, police said. No one was injured, according to the FBI.
Witnesses described the suspects as two males, possibly Hispanic or light-skinned African American. Both were wearing dark "hoodie" pull-over sweatshirts. Witnesses observed a late model, Black Nissan Altima leaving the scene, possibly driven by a get-away driver, meaning there were three men involved in the heist.
Investigators ask anybody with information as to the identity or whereabouts of the robbers to call 911. They should be considered armed and extremely dangerous. The FBI can be reached 24 hours a day at 415-553-7400. All calls are confidential. The Watsonville Police Department crime tip line is 831-768-3354 or the investigations bureau can be reached at 831-768-3350.
Scurich Insurance can help your business get insured in the event of a robbery with Business Insurance.