Because of the midweek nature of Christmas and New Years this year, many folks will have a longer than usual time off.
Winter holidays give your company an opportunity to host celebratory parties and have fun. You could be liable, though, if you celebrate the holidays in a way that discriminates against employees. Be sure your holiday festivities celebrate diversity and avoid religious discrimination.
Granting Holidays Off
According to Title VII of the 1964 Civil Right Act, you cannot discriminate against your employees based on religion. Also, you must accommodate "sincerely held religious practices" unless doing so would cause undue hardship for you. These guidelines prevent you from firing employees whose religious practices require a Sabbath day of rest. However, you are not required to give an employee the entire week of Diwali, Christmas or Hanukkah off if doing so would: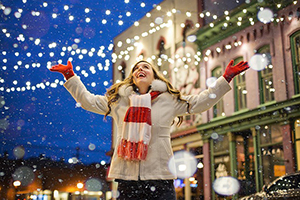 Be costly.
Decrease efficiency.
Burden other employees.
Threaten safety.
Violate employee rights.
As a company, you can accommodate all your employees during the holidays in several ways. These actions ensure your company remains compliant with the law and respectful of your employees.
Include floating holidays in the benefits package.
Allow employees to take a vacation, sick, personal, or unpaid day off for holiday celebrations.
Let employees work a different schedule or swap shifts to accommodate their holiday observance.
Decorating the Office
Office decor can improve your employee's morale. Religious or symbolic decorations like lanterns or crosses may offend employees of different religions, though.
Support diversity and inclusion as you decorate. Choose generic items like snowflakes rather than religious objects. You can also give your employees permission to decorate their personal space. In this case, stipulate that the decor items must be minimal and cannot interfere with navigation around the office. For example, a six-inch Christmas tree on a desk is acceptable, and but a six-foot tree in a cubicle or walkway would be inappropriate.
Hosting Holiday Parties
A holiday party gives your company the chance to unwind and relax while building rapport. You must remain sensitive to your employees' religious beliefs as you plan and enjoy the party, though.
Comply with the law, avoid discrimination and show sensitivity to employees when you:
Include members of different religions on the party planning committee.
Make parties non denominational.
Schedule the party for a date and time that will not interfere with religious observances.
Include elements of all religious seasonal holidays.
Give employees the choice to attend the party.
Avoid serving alcohol, which is forbidden in certain religions.
Adopt a charity as a company or match charitable donations rather than host a holiday party.
As a company, you can celebrate the holiday season and embrace and celebrate diversity in a way that avoids religious discrimination. Start with these tips. For more information, talk with your corporate attorney, HR professional or business liability insurance agent.