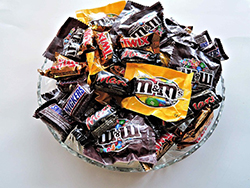 Are you planning to welcome trick or treaters to your home this month? Follow 11 steps that prepare your property for safe Halloween fun.
1. Clean your walkways.
Jack-o-lanterns are cute, but they are also tripping hazards. Remove decorations and all clutter or debris such as toys, yard tools or twigs from your sidewalks, steps and walkways.
2. Clear the yard.
Ideally, kids will stay on the walkway and front porch as they retrieve their candy. However, you will want to clear your yard so curious and excited kids don't trip on any toys, branches or yard tools.
3. Repair broken sidewalks and steps.
Inspect your entryway and steps carefully. Then repair any broken stepping stones, loose railings or other hazards.
4. Install lighting.
Your front porch light is turned on to welcome trick or treaters, but you may also need additional lighting to ensure safety. Solar-powered walkway lights or a string of lights can illuminate your walkway and porch.
5. Change your location.
Instead of making kids walk up your long driveway or steep steps, stand or sit in a location that's easy for them to access.
6. Lock doors and windows.
On trick or treat night, your attention is focused on your front door. Lock all the other doors and windows in your house so no one can gain access to your home while you're out front. Remember to lock your garage and car, too.
7. Secure valuables.
Move your grill, mower and other valuables to the shed or another secure location. With this tip, you prevent potential burglars from adding your home to their future target list.
8. Protect your pets.
Some kids are scared of animals. Also, pets can become startled and bolt or bite when they see strange costumes or dozens of noisy kids. Always secure your pets so they and the kids are safe.
9. Extinguish candles.
Open flames pose a fire hazard. As an alternative, try battery-powered bulbs, or install Halloween-themed covers on your flashlights.
10. Consider allergies when choosing candy.
Many kids are allergic to nuts or dairy. Place a teal pumpkin on your step to show trick or treaters that you offer safe alternatives like books, stickers or toys.
11. Update your property and homeowners' insurance policies.
Despite your best efforts to promote safety, someone could be injured while on your property. Be sure your property and homeowners' insurance policies are updated and include adequate coverage.
Trick or treating is a fun family activity. As you give out treats this year, follow these 11 safety tips. They secure your property and reduce your liability risks.