Holiday decorations around the office are fun and festive, but they do pose safety hazards and can cause injuries. Whether your employees decorate the office for Christmas, Hanukkah, Kwanzaa, or New Years, insist on numerous safety precautions.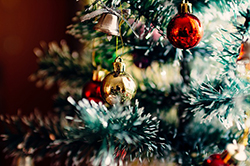 Avoid Trips and Falls
Place trees, gifts or displays in areas that are out of the way. If these items sit in a hallway or other busy area, employees could trip or fall over them.
Climb a Ladder
When hanging garland, snowflakes or streamers from the wall, windows or ceiling, use a ladder or step stool instead of a chair or desk. The right support helps you reach high places without pulling a muscle or falling.
Use Nonflammable Materials
All the holiday decor you use should be labeled as nonflammable or noncombustible. Check the label, too, to verify that your decorative drapes, lights and artificial greener are made of fire retardant material and safe for your employees.
Don't Block Signs or Exits
Seasonal banners and other decor items may fit perfectly over signs or doors, but never cover signs or exit doors. Remember to keep fire equipment and sprinklers free from decorations, too.
Stay Away from Heat Sources
Always check the surroundings before you place decorations around the office. Items should sit away from vents, space heaters and other heat sources.
Attach Tall Items Securely
Tall trees and other display items are top heavy and may topple over if they're bumped or even randomly. Secure tall decor items to the wall or ceiling with guy-wire.
Select Cool Burning Bulbs
Safety tested and cool burning bulbs in light strings or lamps are less likely to cause burns or fires. Check the label to ensure the bulbs are tested by an independent lab and verified to be safe.
Inspect Lights
Holiday lights add a festive look to your office, but always inspect lights before you plug them in. Toss strands with frayed or bare wires, broken or cracked sockets, or loose connections.
Take Care with Extension Cords
Extension cords are convenient but potentially hazardous accessories. Only plug in the recommended number of light string sets. Also, avoid tacking or stapling cords to the wall or floor, and tape or cover cords that cross the floor on walkways.
Ban Candles
An open flame is a big burn and fire hazard. Only allow electric lights and ban candles for safety.

Turn off Lights
At the end of the day or whenever the office is closed, switch off all the lights. You'll save money and reduce a fire hazard.
The holidays can be more festive when you decorate the office. Use these safety tips to reduce injuries and keep your employees safe.