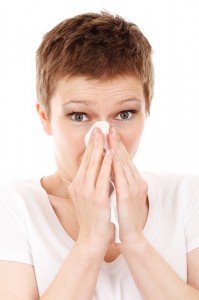 Springtime is known for many things, including beautiful blooming plants and flowers.  Getting ready to plant new crops, warmer weather, longer days and allergies.
Allergies bring watery, itchy, irritated eyes; runny noses; uncontrollable sneezing and plain sinus misery.  The most common allergies come from pollens, animal dander, mold spores, dust mite and cockroaches allergens.
Here are a few tips to help you with your allergies this Spring season:
Head over to the pharmacy and stock up on allergy medications.  Talk with your doctor to see which ones will work the best for you.  Antihistamines, decongestants and nasal sprays should be at the top of your list.

You can also ask about allergy shots.   An allergy shot could mean the end all of all allergy medications.
Dehumidifers and air purifiers work great in the home.
Get mattress and pillow coverings.  Mattresses and pillows host a ton of allergens.  Getting a cover for the mattress and pillow and washing them once a week or so, will keep allergens to a minimum.
Before settling on any specific medical treatment for your allergies, please consult your doctor for the best treatment plan.
Content provided by Transformer Marketing.