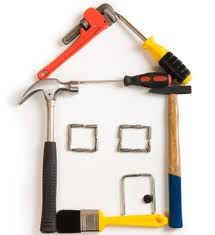 With the arrival of spring, you might be itching to start home improvement projects. Certain projects can reduce your home insurance costs, so consider focusing on those as you save money and improve your home.
An inexpensive no-burst stainless steel hose from your local hardware store can reduce your home insurance premium by 10 percent. Attach it to your washing machine and reduce one of the most common causes of water damage.
Install a Sturdy Garage Door
Because strong seasonal winds and other stormy weather can destroy your garage door and everything in this structure, install a sturdy garage door. One that's hurricane-resistant or fitted with horizontal and vertical braces can save you 10 percent on your insurance premium and potentially pay for itself within five years.
Hang Storm Shutters
Wind-resistant shutters could reduce your insurance costs by as much as 20 percent, and they're particularly important if you live in a hurricane zone. Both metal and roll-down shutters protect your home.
Purchase Trouble Detectors
Smoke and carbon monoxide detectors are two investments that reduce your home insurance premiums, but consider other trouble detectors, too. They provide plumbing failure warnings, detect furnace failure or alert you to frozen water pipes. Find leak detectors and other trouble detectors online or at your local hardware store.
Invest in Fire Extinguishers
For a savings of five percent, invest in fire extinguishers. Place one in the kitchen and on every floor or your home.
Invest in Carbon Monoxide Detectors

Place one in the kitchen and on every floor or your home.
Choose Fire-Resistant Siding
Save 20 percent on your insurance premium and give your home a new exterior appearance when you install fire-resistant siding. Metal, clapboard, fiber-cement and clapboards are all Class A fire-resistant materials that are available in a variety of colors and finish styles that meet your needs.
Inspect and Repair or Replace Your Roof
Because worn shingles on your current roof won't do much to protect your home when windy weather arrive, consider replacing your roof. Select sturdy roofing materials like metal, shake or Class 4 modified asphalt shingles. Use six instead of four staples or nails per shingle for additional savings.
These spring home improvement projects can decrease your premium. You'll also save money when you drop additional structure coverage, increase your deductible, make automatic payments and combine home and auto policies. Discuss the details with your insurance agent as you save money and protect yourself this season and throughout the year.