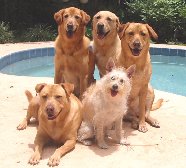 October, Adopt a Shelter Dog month, is a great time to add a dog to your family. Be careful which breed you adopt, though. Insurance companies use data from insurance claims and public health studies to create a high risk dog breed list, and your homeowners insurance premiums can increase based on the type of dog you adopt. You can save money when you choose a dog that's not on the high risk list.
Working Breed Dogs
Agile, powerful and intelligent, Akitas, Alaskan Malamutes, Doberman Pinschers, Rottweilers and Siberian Huskies are also fiercely protective. If they're not trained properly, these breeds could be potentially dangerous, especially to young children and small pets.
Terrier Breeds
Loyal and protective, American Pitbull Terriers and American Staffordshire Terriers have been bred to hunt. These traits mean they can become aggressive and tenacious if they're cornered or frightened by one of your family members or guests.
German Shepherds
Police departments, military personnel and ranch hands appreciate this breed because the dogs are intelligent, hard-working and powerful. They're also suspicious of strangers and won't back down, which makes them a challenging breed for inexperienced owners to handle.
Chow Chows
Independent and strong Chow Chows are often kept as companions. These fluffy dogs can be aloof and stubborn, though, and should only be adopted by experienced dog owners.
Miscellaneous Breeds
Wolf Hybrid and Presa Canarios dogs exhibit strength and protective characteristics. However, they can also be unpredictable and quick to attack, making them potentially dangerous breeds. Friendly and docile Great Danes are listed on the high risk list, too, because of their size.
A dog adds fun and companionship to your home and family, and adopting a shelter dog is socially responsible. Before you choose a new pet, though, consider whether or not it will increase your homeowners insurance cost. If so, you may choose a different breed or reduce your home insurance premiums by installing a dog fence or raising your deductible.