Saturday
August 15, 2015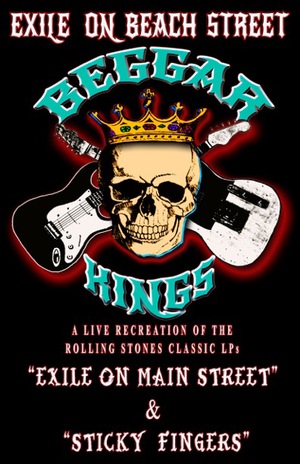 Musicscool Productions; and Guitars, not Guns present a fabulous concert of top local musicians pooling forces to recreate the classic Stones albums "Exile on Main street",  and "Sticky Fingers" !
The group features members and former members of acts like Doobie Brothers, Quicksilver Messenger Service, Moby Grape, Destroy the Night, White Album Ensemble, Steve Marriott, Le Strange, Tsunami, and many more. This will be a show by the same production team, and in the grand tradition of the White Album Ensemble, and Destroy The Night featuring James Durbin, both sold out Rio Theatre shows. . The accent is in "nailing the vibe" of the music, not the trappings- of the " World's Greatest Rock and Roll Bands" '  greatest records ( in many opinions) in their original form. 
A raffle at intermission will benefit Guitars, not guns, a pro youth, anti violence non profit org.