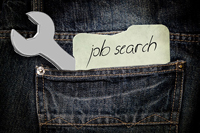 If you tuned in to the coverage of the recent election, you could learn a few tips from political campaigns that help your job search succeed. While some candidates may not have been entirely civil, in general candidates conduct themselves in a positive manner (they are, after all auditioning for a job). Other job candidates can learn from the campaign trail.
Be Friendly
Rarely will you see a political candidate frown. That's because they know they need to be friendly. So smile, make eye contact, use your manners and call people by the right name when you print resumes, talk to hiring managers and interview for jobs. These actions show that you're friendly, likeable and nice, and they attract people as you demonstrate that you're a team player.
Keep it Simple
Of course you are familiar with product names and technical acronyms associated with your industry, but you risk turning off hiring managers who is not familiar with those terms. Stick with simple language on your resume and during interviews as you share your skills and wow potential employers.
Enlist Superdelegates
Every successful job search is achieved with help from a team. Ask former co-workers to be a reference, ask friends to share potential job openings, and ask a career center to proofread your resume. All of these people can support your job search, boost your morale and help you land a job.
Answer Questions
Some job interview questions are hard, including why you left your previous job or why there are gaps in employment. Anticipate the tough questions and prepare answers that are direct. Skirting issues only shows that you are not trustworthy or ready to tackle tough challenges at work.
Use Social Media
In addition to finding jobs on social media sites, you can use Google Plus, Twitter and LinkedIn to build your brand and image. Share relevant news articles, discuss trends and talk about your opinions as you gain credibility it the field, engage your audience and stay visible to potential employers.
Share a Short Message
You are passionate about your experience and may even have a vision for what you want to do in a new position, but use fewer words not more. A short message is more likely to hold a hiring manager's attention and allows everyone to get a turn to talk during interviews.
Be Trustworthy
Employers are looking for team members who tell the truth, follow ethical behavior and live with integrity. Tell the truth about your qualifications and during interviews as you demonstrate your trustworthiness.