The pandemic has been a mixed bag for pets, with adoption rates souring during the lock-down periods. Conversely, shelters are reporting unprecedented numbers of abandoned pets, presumably when people go back to work.
Owning a pet is rewarding for your entire family. To celebrate National Responsible Pet Owners Month this February, consider the tips.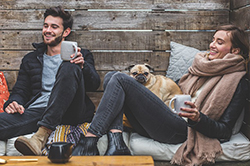 Encourage Shelter Adoption
Every year, millions of pets are placed in shelters. Instead of buying a pet from a mill or breeder, visit your local shelter and encourage your family and friends to adopt their next pet from a shelter.
Spay or Neuter
Prevent overpopulation and improve your pet's health and behavior when you spay or neuter it.
See the Veterinarian
Regular veterinary check-ups help your pet stay healthy. You can also use these visits to gather important information about your pet's health. Additionally, keep your vet's phone number on speed dial for easy access during a pet emergency.
Update Identification
A microchip assists you in finding lost or stolen pets, so consider getting one this month. You can also give your pet a collar ID tag with your name and phone number.
Feed a Nutritional Diet
Quality food, treats and supplements give your pet the nourishment it needs for health, wellness and weight management. Discuss your pet's specific dietary needs with your veterinarian, and follow his or her recommendations.
Groom
Every pet needs grooming. Clean or bathe your pet, trim its nails, brush its teeth, and wipe out its ears as you help your pet looks and feel its best.
Train your Dog
Teach your dog basic obedience to reduce behavior problems and strengthen your bond.
Provide Exercise
Many pets need exercise and movement throughout the day to reduce behavior problems and stay healthy and happy.
Clean Up
Carry bags so you can clean up after your pet if it goes to the bathroom outdoors. This responsible action prevents the spread of disease and maintains a clean environment.
Pet Proof your Home
Most pets are naturally curious and like to explore, so take steps to ensure your pet remains safe. Use pet-friendly cleaning products, remove choking hazards, research houseplants for toxicity to pets, and purchase pet-safe toys.
Teach Kids to Respect Animals
Children can be rough with pets, so supervise young children as they play with pets. Also, train kids to show respect to animals, and remind your children to ask for permission before touching a strange dog.
Purchase Pet Insurance
Afford expensive yet necessary medical care for your pet when you purchase pet insurance.
Travel Safely
Provide a crate, harness or other safety gear when you travel in the car with your beloved pet. Remember to pack its favorite food, a water dish and toys, too.
These tips help you care for your pet properly. They also help you celebrate National Responsible Pet Owners Month.