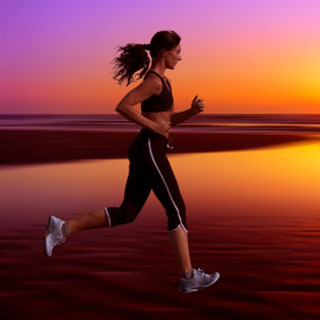 You might love the warm summer temperatures, but they can be dangerous when you are working out. If you are not careful, you could end up with dehydration or heatstroke. The following tips can help you keep up stay safe while you stay in good shape over the summer.
Exercise During the Cool Parts of the Day
Avoid the intense heat of the noon-time sun when possible. Instead of going for a walk during your lunch break, exercise early in the morning when temperatures are lowest. Another option is to wait until the sun goes down and the temperature starts to drop in the evening. If you work out before dawn or after sunset, wear reflective clothing so that car drivers can see you more easily. If you exercise during the day, use sunscreen.
Stay Hydrated
You can quickly become dehydrated when you exercise. To prevent dehydration, men should drink 12 8-ounce cups and women should get 8 cups of water per day. You need extra water when the weather is windy or dry.
Consume an additional 2 cups of water about an hour before your workout, and drink 8 ounces of water every 15 minutes while you are exercising. Weigh yourself before and after your workout, and drink an additional 16 ounces, or half-liter, of water for every pound that you lost during your workout.
Symptoms of mild dehydration can include thirst, headaches, fatigue, muscle cramping and muscle weakness. Stop exercising and drink some water immediately if you notice these symptoms.
Adjust Your Exercise Program
Be flexible with your exercise program during the summer. Water activities, such as swimming laps or taking water aerobics classes, can give you an excellent aerobic workout while you stay cool compared to participating in activities such as running or cycling. You can also adjust your workout program while maintaining a high level of fitness by lowering the intensity of your exercise sessions on hot days.
Finally, you can opt for indoors workouts instead of heading outdoors. You can follow an exercise DVD in your own air-conditioned home, or go to a health club with air conditioning. There, you can run on the treadmill, use the stationary bikes or elliptical machines, lift weights, and take group fitness classes without exposing yourself to the sun.
With a bit of caution, you can have fun, stay fit, and stay safe this summer.