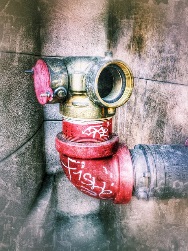 Your homeowner's insurance policy probably won't cover any damage from your pipes if investigations prove negligence or poor maintenance.   We have a few tips for you to use to winterize your pipes this fall.
For all outdoor watering hoses and sprinklers, disconnect them and drain out the water.  Store them in a dry place.
Make sure your shutoff valve is working properly.
Check for broken windows or cracks where your pipes are located.  If cracks and/or broken windows are found, seal them up to prevent your pipes from freezing up.
Make sure heat can evenly circulate throughout the house, especially around the pipes and water meters.
If you have interior pipes, wrap them up with insulation.
Don't close your cabinet door.  Leave the cabinet doors open that are home to pipes so the heat can get to them.
You may want to consider allowing your water run a little slower this winter.  It may cost a little more on your water bill, but when you compare the cost of repair your pipes, you'll find that it's worth it.
This winter, make sure that your pipes are well maintained and taken care of.  For more information about your homeowners insurance policy, feel free to contact Scurich Insurance Services.
Content provided by Transformer Marketing.
Source:  http://www.mainewater.com/Customers/~/media/Files/Bill%20Inserts%20and%20Fact%20Sheets/Winterizing%20Tips.pdf