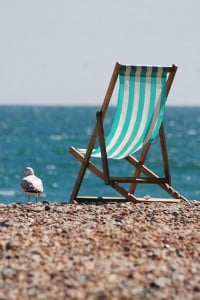 Beaches are an inexpensive way to get away (well if you stay local) and have some R&R.  You can bring your entire family (yes, even a family reunion), break out the barbecue and let the kids go wild in the water.
Here are a few tips to make your trip to the beach more enjoyable.
Protect the skin.  Grab the sunscreen, that cute little umbrella, and relax knowing that you and your family are protected by the sun's harsh rays.
Pack the camera.  Film and click away your fun filled beach day.
Tidal pools anyone?  These are fun ways to get up close and personal with some really cool creatures from the sea.
The world is your sandbox.  Well, at least for the day.  Bring your shovel and pail and have some sandcastle fun with the kids.
Go fly a kite.  Literally.
Bring the volleyball or badminton set and play a couple of games.
 Collect the seashells.  These are great souvenirs and don't cost anything.  When you clean them you can add them to your fish tank or even make shell jewelry.
This summer have a blast at the beach!
Content provided by Transformer Marketing.