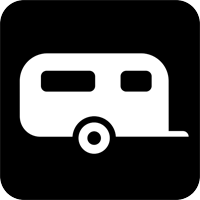 Summer time fun for you might include hauling a trailer. It secures your ATV, boat, a second car, camper, horses or camping gear. Before you hit the road, make sure your trailer is properly insured.
Why do you Need Trailer Insurance?
Many states accept your auto insurance coverage when you haul a trailer behind your insured vehicle. Your homeowners or renters insurance policy may cover the items you haul. However, this coverage is typically only for liability. Plus, you face several risks when you haul your trailer on the road.
If you're not used to hauling a trailer, your risk of causing an accident increases.
You may turn too sharply and damage someone's property.
You could hit a slippery stretch of highway that causes your trailer to slide into another vehicle and damage it or push it off the road.
While unloading or loading your trailer, you could damage it or the item you're hauling.
These and other accidents are possible. Trailer insurance adds valuable protection that gives you peace of mind as you travel.

What Type of Coverage is Available?
The type and amount of trailer insurance you need depends on your trailer's type and size and on the value of the items you will haul. Typical trailer insurance provides several valuable coverages.
Liability – Cover the costs associated with bodily injuries or property damages your trailer causes to other people or their property and belongings.
Comprehensive – Repair your trailer if it is damaged from theft, vandalism, fire or weather.
Collision – Repair your trailer if it is damaged during a traffic collision.
Contents Coverage – Pay to replace damaged items that are stored on or hauled in your trailer.

How do you Purchase Trailer Insurance?
Talk to your auto insurance agent about trailer insurance. He or she will review your auto insurance policy's current types of coverage and limits to ensure it's adequate for your trailer. Your agent will also review your homeowners or renters insurance policy and ensure it covers the items you are hauling.
If your current policies are not adequate to cover your trailer and its contents, increase your coverage types or limits or purchase a separate policy. You may need to shop around for trailer insurance if your current agent does not carry it.
With trailer insurance, you can travel this summer with confidence. If your trailer causes property damage or bodily injury or if the items you haul are damaged, you can pay for the liability or repairs. Talk to your agent before your next trip to make sure you're properly covered.