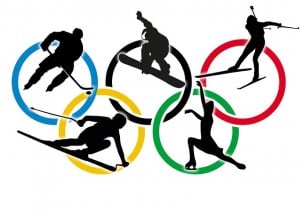 Another Winter Olympics season has come and gone and it was a nail-biter, right up until the end.  The United States had received the most medals up until the closing weekend, when Russia dominated in the events. Russia came through in the end, earning a total of 33 medals with 13 gold medals, 11 silver medals and 9 bronze medals.   The United States came in second,m earning a total of 28 medals with 9 gold medals, 7 silver medals and 12 bronze medals. Norway came in third with 26 medals, 11 of  the medals are gold, 5 silver and 10 bronze medals.   Here is the breakdown between Russia and the United States.
Russia won the gold in the following categories:
Biathlon-Men's Relay
Bobsleigh-Four Men and Two Men
Cross Country-Men's 50 km
Figure Skating-Ladies, Pairs, Team
Short Track-Men's 1000m, Men's 500 Men's 5000m
Skeleton-Men
Snowboard Men's Parallel Giant Slalom
Snowboard Men's Parallel Slalom
The United States won the gold in these categories:
Alpine Skiing-Men's Giant Slalom, Women's Slalom
Figure Skating-Ice Dance
Freestyle Skiing-Men's ski halfpipe
Freestyle Skiing-Men's ski slopestyle
Freestyle Skiing-Women's ski halfpipe
Snowboard-Men's slopestyle
Snowboard-Women's halfpipe
Snowboard-Women's slopestyle
The complete list of all 2014 Sochi Olympic winners is here.
Congratulations to all Olympians!
Content provided by Transformer Marketing and http://graphicsweb.wsj.com/documents/sochi-medal-count/