Small commercial lines insurance customers most value having an insurance agent or broker who completely understands their individual business and helps them assess and manage their risk. The highest-ranked small business insurers deliver on both of these metrics for 60 percent of their customers, compared with the lowest-ranked insurers at 33 percent, according to the J.D. Power 2013 U.S. Small Business Commercial Insurance Study.
The study examines overall customer satisfaction, insurance shopping and purchase behavior among small business commercial insurance customers with 50 or fewer employees. Overall satisfaction is comprised of five factors (in order of importance): interaction; policy offerings; price; billing and payment; and claims.
KEY FINDINGS
Overall customer satisfaction among small business customers is 777.
Satisfaction is significantly higher when an agent or broker understands their customer's business and provides guidance regarding risk (835) than when neither of these metrics is met (645).
Policy offerings—not price—is the primary reason small business customers select an insurer; level of service is the primary reason they stay with their insurer more than two years.
Overall customer satisfaction among small business customers is 777 (on a 1,000-point scale). Among the five factors impacting satisfaction, interaction has the highest importance weight at 29 percent, followed by policy offerings at 26 percent. Interaction satisfaction is highest when customers interact with an agent or broker in person (854). In contrast, satisfaction is significantly lower when customers interact via email (819).
Customer satisfaction is highest among small businesses with 11-50 employees, compared to businesses with four or fewer employees (790 vs. 769, respectively). Higher scores among larger businesses are influenced by agents and brokers spending more time with these key accounts. Agents and brokers are not only interacting with these larger businesses more frequently, but the interactions are also three times more likely to be made in person outside of the agent's office, compared to businesses with four or fewer employees (24% vs. 8%, respectively). Consultation via face-to-face interactions allows insurance agents to understand the customer's needs, provide helpful information regarding risk and tailor insurance products to meet their needs.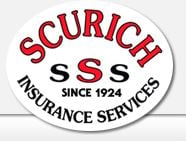 Scurich Insurance Services has proudly served the Monterey Bay area since 1924.  Scurich will take care of all of your insurance needs.  Are you a business owner, did you get a new car or maybe you are looking to protect your family in the event of a tragedy?  Give us a call, we can help!
We are located at:
320 East Lake Avenue, PO Box 1170
Watsonville, CA 95077-1170
Office: 1-831-722-3541
Toll Free: 1-800-320-3666
Website | Facebook | Blog | LinkedIn
Information provided by:
http://www.insurancejournal.com/news/national/2013/09/03/303664.htm