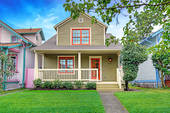 If you rent out residential property, you face a variety of financial risks, everything from damage from fires and windstorms, through fines for building code violations, to a disgruntled tenant who sues you.
Landlord insurance to the rescue! These policies cover losses to the property, medical payments for tenants or visitors injured on the premises, and your personal liability for alleged negligence.
The amount of coverage depends on your financial situation. If you've taken out a mortgage on the property, the lender will probably insist that you buy a policy large enough to cover the loan balance. As a rule of thumb, the higher the value of the property and the greater the risk of potentially catastrophic liability, the more coverage you'll need.
Your premium will depend on the type of losses covered and the extent of reimbursement. If you choose comprehensive or all risk coverage (which will pay for damage from all causes unless specifically excluded), your cost will be higher than if you buy "named perils" coverage (which covers only losses due to specific causes). Expect a higher premium for replacement value, which will reimburse you fully for rebuilding your property, than for actual cash value coverage, which will pay only the value of the property, less depreciation.
You can also reduce your premium by increasing the deductible (which usually range from $100 to 5% of the building coverage).
Optional coverages include repayment for rental income lost if the property becomes uninhabitable, and for risks of doing business with tenants, such as legal fees and liability against claims for libel, slander, and discrimination.
Our personal insurance specialists would be happy to help you choose the landlord coverage that offers the best value. Just give us a call.