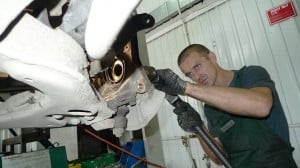 You hope nothing will go wrong with your car, especially late at night or far from home. Yet we all know that breakdowns can happen unexpectedly. We recommend taking a risk management approach to car safety — assume the worst will happen and prepare for it in advance.
Start by getting a good emergency kit. Whether you purchase one or build it yourself, your kit should contain at least a working flashlight, flares, reflective triangles, distress sign, first aid supplies, and basic tools.
Before leaving the house, make sure your cell phone is fully charged. Take along some spare change or a telephone calling card in case you break down in a "dead" area for your cellular provider.
If your vehicle breaks down, pull off the road as far as possible on the right shoulder (or in the center median, if getting to the shoulder is impossible). Activate your hazard lights and place flares or reflective triangles far enough behind your vehicle to warn oncoming traffic of your presence. Many authorities advise against you attempting to change your tires or jump your battery while traffic is present. Open your hood, then stay in your vehicle and wait for help.
If a stranger approaches, it's safest to talk through a closed window. Don't ask them to assist in repairing your vehicle. If they wish to help, ask them to call your auto club or the police.
For more recommendations on helping minimize the risks of everyday events, give our Personal insurance experts a call. As always, we're happy to help.