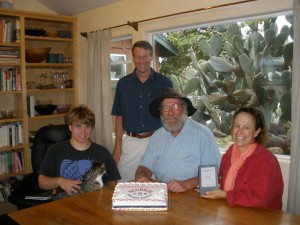 The promotion is over and the winner has been selected; Julia Wiley a long-term customer of Scurich Insurance Services is the winner of a brand new Kindle. We celebrated with a party including cake, family, and of course the Kindle. Although, we have known her for the past 20 years we wanted to share Julia's inspirational story with all of you.
Initially, in 2000 she was diagnosed with stage 2 breast cancer which went into remission for 10 years. In 2010 the cancer returned, and she was diagnosed with stage 4 which means the cancer has metastasized to her bones. With this news Julia decided that she wasn't going to let the cancer control her, but rather she was going to control her life.
To cancer, Julia is just another statistic or "A middle aged woman with stage 4 metastatic breast cancer." What Julia wants to be thought of rather than is "A mother, a movie-lover, a wife, a Californian, a teacher, a farmer, and many other labels besides just being another statistic" Julia says, "My friends tell me that I have a few opinions now and then… and I plan to voice them, with occasional humor: we all need it in our lives!"
On the 20th of October she will be taking a very exciting trip to China to reminisce on a country she has a lot of nostalgia over.  Having lived there when she was a child and studying Mandarin for 4 years at a University she has a deep connection that has been a dormant need inside of her; until now.
Miraculously enough, even though Julia is on three different forms of chemotherapy, she hasn't experience a lack of energy except in the evenings and absolutely no hair loss. Currently she is doing the best she can with her positivity and pure outlook of life always at her side. For the time being, she is taking her life one day at a time and passing her inspiration on to anyone, cancer or not she wants her message to the world to be loud and clear, "Just live your life". We wish Julia all the positivity in the world and will continue to enjoy her as an ongoing client.