Average medical payments for California workers compensation claims increased sharply between 2005 and 2011, although medical cost containment has shifted some medical payment expenditures, the California Workers' Compensation Institute said Monday.
Oakland, Calif.-based CWCI analyzed data from 1.9 million California workers comp claims between January 2002 and September 2012. Average medical payments for indemnity claims rose to $6,845 in 2011, up 60.2% from $4,273 in 2005, CWCI said.
Meanwhile, average medical payments for all California workers comp claims climbed to $2,543 in 2011, up 51.7% from $1,677 in 2005.
Average payments for indemnity claims that included pharmaceuticals and durable medical equipment between 2005 and 2011 rose 187.6% to $801, the report said. Average pharmaceutical and durable medical equipment payments for all California workers comp claims during that time increased 171.3% to $276.
The report showed that medical treatment represented 73% of medical payment costs in 2011, compared with 79.4% in 2005. However, medical cost containment expenses represented 13.9% of medical payment costs in 2011, compared with 11.6% in 2005.
CWCI said early analysis of 2012 claims showed that average medical payments for workers comp claims showed "marginal" declines in the first three and six months after an occupational injury.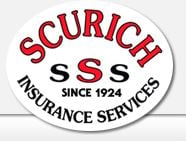 Scurich Insurance Services has proudly served the Monterey Bay area since 1924.  Scurich will take care of all of your insurance needs.  Are you a business owner, did you get a new car or maybe you are looking to protect your family in the event of a tragedy?  Give us a call, we can help!
We are located at:
320 East Lake Avenue, PO Box 1170
Watsonville, CA 95077-1170
Office: 1-831-722-3541
Toll Free: 1-800-320-3666
Information provided by:  http://www.businessinsurance.com/article/20130827/NEWS08/130829850?tags=|305|304|92