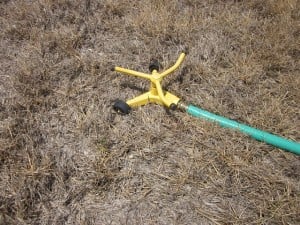 The third consecutive year of drought plaguing California has encouraged unprecedented legislative and regulatory efforts to conserve what limited water the state has in its supply.
Come Tuesday, state officials from the State Water Resources Control Board will meet to discuss plans to impose emergency and temporary water conservation rules and regulations on outdoor water usage, an area state officials view as posing great potential for preserving the coveted liquid.
If passed, the new rules could include a $500 daily maximum fine for "water hogs" and violators, according to the San Francisco Chronicle.
Prohibited activities could include using water to wash down hard surfaces such a driveways and sidewalks; using landscaping water to the point where it would result in runoff, and the washing of vehicles unless the hose has a shut-off nozzle which controls water output.
Flushable toilets at popular state parks such as D.L. Bliss State Park at Lake Tahoe, the Hearst Castle Visitor's Center, and Hearst San Simeon State Park have been shut down and replaced with portable toilets, according to the Associated Press. Additionally, showers at D.L. Bliss, San Simeon and Portola Redwoods State Parks have also been shut down in an effort to conserve water.
The AP notes that the officials have said the remaining water supply must be preserved for portable water at"This is not about aesthetics," Gordon said, "as much as public health." campsites and firefighting.
In San Francisco, city officials have raised concerns over the need to use water to wash off human fecal matter and urine from sidewalks. "We give very high priority to responding to the pee and poop requests," said Public Works Department spokeswoman Rachel Gordon. This past year alone, San Francisco had 16,164 reports of streets and sidewalks in need of cleaning, the bulk of which concerned human waste, reports the Chronicle.
"This is not about aesthetics…as  much as public health," Gordon said, expressing that city officials have said they will continue giving priority to ensuring human waste is removed from their streets and seek necessary exemptions to use water to carry out the cleaning process.
Content provided by http://www.breitbart.com/Breitbart-California/2014/07/13/California-Drought-Creates-Unprecedented-Temporary-Legislation-Fines