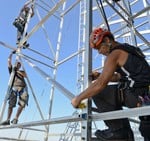 A resurgent construction industry needs to do a better job of keeping workers safe. That's the bottom line of a recent report by Marsh Risk Consulting.
Based on data from the U.S. Bureau of Labor Statistics, the study, "Building Safety and Leadership in the Construction Industry," notes that the industry's 2012 fatality rate increased to 9.5 per 100,000 workers from 9.1 per 100,000 in 2011. The 775 construction-sector deaths in 2012 marks the first annual increase in work-related fatalities since 2006.
According to Marsh, fatalities will probably continue to rise without concerted industry-wide safety improvements, as an ongoing shortage of experienced construction workers leads to widespread promotion of unskilled workers into supervisory roles. "The increase in new construction activity is bringing an influx of new, inexperienced workers," states the report. "In this environment, some contractors are stretching their hiring standards to meet project demands."
Marsh recommends that construction firms focus on training management to ensure effective leadership and help build a culture of safety throughout their organizations.
"As the economy grows and the number of new construction projects picks up, now is not the time to be lax on safety," warns John Moore, a construction safety specialist in Marsh's workforce strategies practice. "Inadequate safety performance can lead to employee turnover and legal, financial and reputational risks. Investing in high-quality leadership will go a long way toward retaining valued workers and maintaining a safe work environment."
The more you do to keep your workers, safe, the better for all concerned– and the lower your insurance costs. We stand ready to offer our advice on developing, implementing, and enforcing workplace safety standards. Just give us a call.