One of the questions we are frequently asked is, "How can you offer low prices?"
Our answer is simple.   We work with a multitude of insurance companies and we shop around to get the best value for the types of coverage you need. We will look for discounts including bundling packages and other applicable discounts based on the types of policies you need.  Here's the list of companies we work with:
ACE

Allianz GSC Marine

Allied Insurance Group

AMTrust

American Bankers – Flood

Arrowhead

BHHC – Berkshire Hathaway Homestate

Chartis

Chubb

CIG – Capital Insurance Group

CNA

Commerce West

Deans & Homer

Employers Insurance Group

EMC – Employers Mutual Casualty

Encompass

Everest National

Financial Pacific

Fireman's Fund

First American Specialty

Foremost

GMAC Insurance

Golden Eagle

Great American – Non-Profit

Guard Insurance Group

Guide One

Hanover Insurance Group

Hartford Insurance Group

ICW – Insurance Company of the West

ILM- Indiana Lumbermens Mutual

Kemper – Personal Lines

Liberty Mutual Middle Market

Magna Carta

Majestic

Markel Risk Solutions

MetLife Auto & Home

MGAlive

Midwest Insurance

Nationwide Ag

Navigators

NIAC-Nonprofit's Insurance Alliance of Calif.

One Beacon

Oregon Mutual

Philadelphia

Preferred Employers

QBE Agri Insurance

Republic Indemnity

Safeco

Seneca

Sequoia

State Compensation Ins. Fund

Titan-( Victoria Insurance)

TOPA

Travelers

Unigard Insurance Group

Zenith

Zurich
Contact us if you are in need for car insurance, homeowners insurance, or commercial insurance.  We will work hard for you to get the best price possible for your needs.
Content provided by Scurich Insurance Services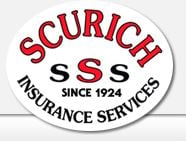 Scurich Insurance Services has proudly served the Monterey Bay area since 1924.  Scurich will take care of all of your insurance needs.  Are you a business owner, did you get a new car or maybe you are looking to protect your family in the event of a tragedy?  Give us a call, we can help!
Let Scurich Insurance Services know if you are a Happy Customer!
We are located at:
Scurich Insurance Services
320 East Lake Avenue, PO Box 1170
Watsonville, CA 95077-1170
Office: 1-831-722-3541
Toll Free: 1-800-320-3666
Website | Facebook | Blog | LinkedIn | Happy Customer