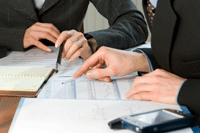 Ringing in the new year often means that it is a great time to take an inventory of your business. Far beyond simply an inventory of any supplies that you might possess though, a thorough inventory of your business practices could bring to light some weak spots that could stand to be shored up. Periodic examinations such as these can help make your business both stronger and more successful.
As April 15th, Tax Day, quickly approaches, many businesses spend a great deal more time scrutinizing their financial records. While this is a job that can certainly be overseen by you, for the most objective view of your financial situation, enlist in the help of an outside agency. The company that you entrust with completing your taxes each year can be a good resource for this type of review.
The business insurance policy you have in place is a crucial element of its success. Not only does it protect you in the event that something unexpected happens, it also ensures that your employees are treated well, giving your company the reputation of being a great place to work. Each year, though, it is a good idea to make an appointment with your insurance carrier.
At this appointment, you and the representative from your insurance company can go over your business insurance policy to ensure that it is still providing the type of coverage that meets the needs of your business. New regulations regarding the insurance industry as well as laws that could potentially affect you are often implemented at the beginning of the year. Working with your insurance agent to customize a policy to meet the growing needs of your business will help get the year off to a good start and ensure your continued success.