Take care of your plugs.  Charging our phones, iPads and laptops.  Enjoying the big game on your flat screen television and a countless array of appliances for your parties.
Electrical fires are bound to happen.  It is important that you should have your wiring inspected, especially if you live in a home that is over 10 years old.  Here are some other safety tips to help prevent electrical fires:
Get new electrical cords.  Throw out all the frayed, loose, or damaged cords.  Replacing these cords is a fairly inexpensive investment to protect your home from an electrical fire.
Make sure you run extensions cords in areas that are visible.  Do not run extension cords under carpets or across doorways where they can become a serious hazard.
Child proof your plugs.
Any electrical work should be done by a qualified, licensed electrician that has a good standing.
Add more circuits our outlets by a qualified, licensed electrician so you don't need extension cords.
Use Instructions.  When plugging in an appliance in an outlet, follow the directions of the manufacturer.
Unplug appliances when not in use.  Having too many appliances in one outlet can overload the outlet.
Call your qualified electrician when you start noticing frequent problems with flickering lights, blowing fuses or if outlets and switches feel warm.
Make sure all lamps are away from flammable objects and are leveled.  Follow the appropriate wattage for each lamp.
You need to have ground fault circuit interrupters (GFCIs) in the kitchen, bathrooms, laundry room, basement and all outdoor areas.
You need to have arc-fault circuit interrupters (AFCIs) should be installed to protect your electrical outlets.
Feel free to contact our office today for a review of your homeowner's policy.
Content provided by Transformer Marketing.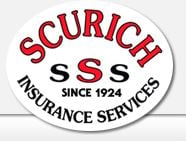 Scurich Insurance Services has proudly served the Monterey Bay area since 1924.  Scurich will take care of all of your insurance needs.  Are you a business owner, did you get a new car or maybe you are looking to protect your family in the event of a tragedy?  Give us a call, we can help!
Let Scurich Insurance Services know if you are a Happy Customer!
We are located at:
320 East Lake Avenue, PO Box 1170
Watsonville, CA 95077-1170
Office: 1-831-722-3541
Toll Free: 1-800-320-3666
Website | Facebook | Blog | LinkedIn | Happy Customer