Last night there was a storm and some of the tiles came off of your roof. Which conversation would you prefer?
1. "Hi Mary, this is John Smith. Some of the tiles came off my roof last night."
"Oh I'm sorry Mr. Smith, yes that storm was really something, wasn't it? We'll get help to you right away."
2. "All our representatives are busy with other customers. Your wait time is approximately 20 minutes. Please hold."
Customers have expressed their greater satisfaction when they have a local agent.
A recent study measured the satisfaction of homeowners when they had to file a claim for damages covered under their homeowner's policy.
Local agents are known as the "personal insurance industry".  Those who have to go through direct channels – typically online or by calling a call center- are much less satisfied with the results. Satisfaction is 50 points higher among customers who file a claim through their agent  than among those who file a claim through "direct channels"
For the industry average, the call center experience fails to deliver the same level of service as an agent. Especially during times of hardship when someone's house has been destroyed or their valuable possessions have been lost, it's difficult for a call center representative to replicate the personal relationship customers get with an agent.
California is subject to storms that can happen at any time.  Your home is probably your largest investment and surely you would like the best coverage and service for it.  Scurich Insurance Services is your local agent.  Why not call them today for a free quote and suggestions for what you need.  They will be ready to help you when you need it.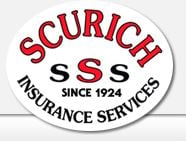 Scurich Insurance Services has proudly served the Monterey Bay area since 1924.  Scurich will take care of all of your insurance needs.  Are you a business owner, did you get a new car or maybe you are looking to protect your family in the event of a tragedy?  Give us a call, we can help!
Let Scurich Insurance Services know if you are a Happy Customer!
We are located at:
320 East Lake Avenue, PO Box 1170
Watsonville, CA 95077-1170
Office: 1-831-722-3541
Toll Free: 1-800-320-3666
Website | Facebook | Blog | LinkedIn | Happy Customer