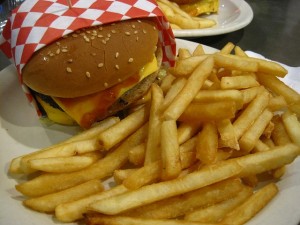 The jingle "hold the pickles, hold the lettuce, special orders don't upset us" may need to include hold the hamburgers too, as drought-related costs have spiked the prices of hamburgers at favorite fast-food restaurants like In-N-Out Burger.
The San Bernadino Sun reports that, according to the U.S. Department of Agriculture, this year beef prices are going to rise 5.5 to 6.5 percent, and poultry should increase 3 to 4 percent. Moreover, fruit, vegetables, and eggs will also increase in price by 3 to 4 percent. Significantly, California grows half of the nation's fruits and vegetables, but because of the record-setting drought, now in its third year, 500,000 acres of farmland remain uncultivated.
"We make every effort to keep our menu prices as low as possible," claims In-N-Out's executive vice president of development Carl Van Fleet. "Unfortunately, we have seen some pretty significant cost increases over the last year, and we had to take a small price increase in order to maintain our quality standards."
All this boils down to higher prices for the consumer and, for those who are already feeling pinched by the lagging economic recovery, choosing what to order is being reconsidered. Giovanni Benitez, who recently had lunch at an In-N-Out Burger in Pasadena said, "I usually always get a combo, but now I might start buying just the hamburger."
In-N-Out is not the only retail food chain raising prices. Chipotle Mexican Grill and Starbucks are also increasing the prices on their menus. Both stores are increasing the price of items in the 4 to 10 percent range.
Notably, consumers aren't the only ones being affected by the fallout of increased water costs due to the drought. A U.C. Davis Center for Watershed Sciences study indicates that the drought could cost California's agricultural and farm communities $1.7 billion and predicts that 14,500 full-time and seasonal workers will lose their jobs.
Consequently, farmers have started to invest in expensive water drilling equipment to locate underground water sources. CBS5 KPIX reports that independent well drilling companies are booming as a result of farmers looking for alternate sources of water.
Steve Arthur, who has been in the drilling-for-water business since 1974, said that he is booked through March of 2015 for drilling new wells. Steve says, "If farmers are not able to drill a well to keep their crops growing, then they are going to have to quit… The effects of that is going to be devastating. They are going to go into the market one day and a gallon of milk is going to cost ten dollars."
Content provided by http://www.breitbart.com/Breitbart-California/2014/07/08/In-N-Out-Burgers-and-Chipotle-Tacos-Prices-Rising-As-Ca-Drought-Persists