When people hear the term life insurance or permanent life insurance most people think primarily of death benefits.  What about life insurance as a life planning strategy?
It's been done.  People, ordinary people with a dream, made it happen.  And not only was their strategy to benefit themselves but it also benefits us today.  And just to name a few:
 Walt Disney.  In the 1950's, after his television show became a huge success, he funded (with his life insurance cash value) his dream of a place where parents and kids alike could come and have good, clean fun.  That place is called Disneyland.
In 1939, a young couple had a dream of owning a farm with chickens and turkeys.  That couple had borrowed $1,000 off their life insurance policy for a down payment on a farm.  With that investment out came Foster Farms.  Foster Farms has over 10,000 employees and locations throughout the U.S.  That young couple was Max and Verda Foster.
As a milkman, Ray Kroc was more interested in hamburgers.  He contacted the McDonald brothers, Dick and Mac, about a successful hamburger stand he saw in San Bernardino, Ca.  The McDonald brothers were interested in franchising nationwide.  In 1955, Ray Kroc opened his first McDonald's in Illinois and by 1961 he bought out the McDonald brothers.  Today, McDonald's is internationally known and there are more than 30,000 locations.
These everyday people took a chance and it changed their lives (and ours too!).
Withdrawing from your life insurance policy early is not without its drawbacks.  Depending on your policy outlines, you could face penalties and taxes.
Talk with a Scurich staff member today to see what we can do for you!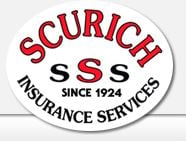 Scurich Insurance Services has proudly served the Monterey Bay area since 1924.  Scurich will take care of all of your insurance needs.  Are you a business owner, did you get a new car or maybe you are looking to protect your family in the event of a tragedy?  Give us a call, we can help!
We are located at:
320 East Lake Avenue, PO Box 1170
Watsonville, CA 95077-1170
Office: 1-831-722-3541
Toll Free: 1-800-320-3666
statistics by:  http://www.lifehealthpro.com/2012/04/06/6-famous-brands-started-or-saved-by-life-insurance?page=2