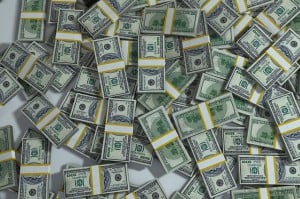 Plenty of companies have offered a million bucks for that perfect March Madness bracket.
But how does a billion dollars sound? (Go ahead, say it in your best Dr. Evil voice.)
Warren Buffett's Berkshire Hathaway and Dan Gilbert's Quicken Loans are teaming up for the ultimate free bracket pool for the men's NCAA Tournament in March.
Not only will a perfect bracket win $1 billion (or split it if there's somehow more than one, if any), but the top 20 imperfect brackets will each receive $100,000 for their efforts.
If you win the contest, you'll have to accept either 40 annual payments of $25 million or a $500 million lump sum payout. Hope that won't be a problem.
"We've seen a lot of contests offering a million dollars for putting together a good bracket, which got us thinking, what is the perfect bracket worth? We decided a billion dollars seems right for such an impressive feat," said Jay Farner, President and Chief Marketing Officer of Quicken Loans, in the press release. "It is our mission to create amazing experiences for our clients. This contest, with the possibility of creating a billionaire, definitely fits that bill."
Buffett's company is underwriting the contest.
"Millions of people play brackets every March, so why not take a shot at becoming $1 billion richer for doing so," said Buffett, Chief Executive Officer of Berkshire Hathaway. "While there is no simple path to success, it sure doesn't get much easier than filling out a bracket online. To quote a commercial from one of my companies, I'd dare say it's so easy to enter that even a caveman can do it."
Quicken Loans will also be donating $1 million to inner city schools and programs in Detroit and Cleveland as part of the promotion.
The contest is free to enter, but does have some stipulations. It's open to the first 10 million people who pre-register (you'll get your bracket on Selection Sunday) and is limited to one per household. The registration period starts on March 3 and runs through the 19th, or until it's full. Also you must be at least 21 years old and a United States citizen.
Just a note, before you start spending that $1 billion — you have a 1 in 9.2 quintillion chance of winning.
Now, start watching hoops on FOX Sports 1 and studying up!
Content provided by http://msn.foxsports.com/college-basketball/story/march-madness-indeed-buffett-gilbert-offering-up-1-billion-in-prize-money-for-perfection-012114