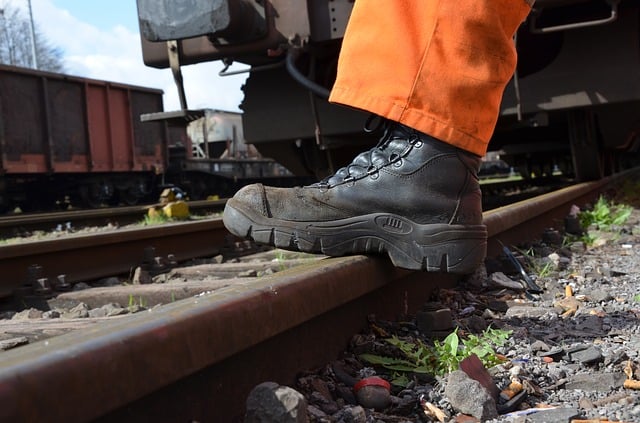 Whether you stand all day, operate heavy machinery or handle chemicals, you need to protect your feet as you work. Several foot safety tips reduce injuries and help you maintain a safe work environment.
When to Wear Safety Footwear

Safety footwear protects your feet against numerous injuries, including punctures, impacts, electrical shock and compression. If you work in any hazardous work environment, you probably need to wear safety footwear as part of your daily uniform. Protective shoes also protect your feet if you suffer from weak ankles or other medical conditions.
Available Types of Safety Footwear
Depending on your job and preferences, you may select safety boots or sneakers. Available in a variety of styles and colors, the best safety shoes include a CSA certification and may include:
Safety-toe – features a special toe covering that protects the foot from dropped objects
Steel insole – stabilizes feet and protects them from joint and bone injuries or problems
Metal instep – provides a barrier against glass, nail and other sharp object punctures
Metatarsal protection – reduces injuries to your upper feet and internal bones
Electric protection – absorbs shock through specially made soles
Heat resistant – resists heat-related injuries
Water resistant – repels water and keeps feet dry  
Nonslip – improves traction on various surfaces
Where to Purchase Safety Footwear
Your employer may provide strict guidelines and limitations about exactly which safety shoe you may wear, including where you may purchase this gear. If you can select the safety shoes you wear, check specialty footwear stores or online retailers. Because you want to protect your feet, select only the right shoes for your job and feet. Price should be secondary as you promote safety.
How to Fit Your Safety Footwear
When trying on safety footwear, ensure a proper fit.
Try on shoes in the afternoon to accommodate swelling that occurs naturally during the day.
Wear your regular work socks and any special supports.
Ensure ample toe room since the shoes typically do not stretch with wear.
Check for snugness around the heel and ankle.
Walk around a bit to check for comfort.
Care Instructions
Most safety footwear requires ongoing care and maintenance. Before you wear them for the first time, apply a water-resistant coating. Every day, inspect your shoes for damage, including sole cracks, leather breaks or toe cap exposure. Always replace your safety footwear if you notice signs of wear or damage that you cannot repair and after a puncture, impact or other event that may compromise the shoe.
Protect your feet at work when you wear the right safety footwear. Talk to your employer and check OSHA resources as you purchase, maintain and wear shoes that protect your feet every day.