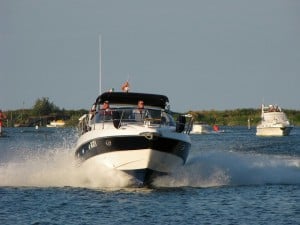 Everyone wants to hit the water now that summer is here.  Pontoons, kayaks, sailboats, motorboats, and the like can be found everywhere.  As with everything, safety measures need to be in place before your boat hits the water.
Pay attention to the weather before you head out.  No one likes to get caught in a storm.  And certainly no one wants to be on the water in a thunderstorm.
Do you have the proper equipment for your guests and your boat?  For boats with engines make sure you have enough gas for a roundtrip.
Don't overload your boat.  I know it's going to be hard to keep your guests at a minimum, but if you don't everyone can be swimming.
Have lifejackets for everyone.  Sure they are big and bulky, but they'll save lives.
Don't drink and boat.  Be the designated boater of the party.  Everyone will thank you for it.
Pay attention.  I'm sure you wouldn't want anyone to run into you and the best way to avoid that is by paying attention, cause someone else might not be.
If you are heading out on the water this summer, you need to make sure you are fully insured.  Most homeowners insurance policies won't cover boating incidents.
Contact our office today for a review of your policies.
Content provided by Transformer Marketing.
Sources:  http://www.discoverboating.com/beginner/safety/tips.aspx and http://www.coit.com/blog/boating-safety-tips