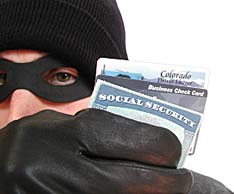 "But he that filches from me my good name/Robs me of that which not enriches him/And makes me poor indeed." – Shakespeare, Othello, act iii. Sc. 3.
Identity theft is a huge problem in the United States. Did you know that identity thieves stole approximately $21 Billion from victims in 2012? This equates to one incident of fraud every three seconds. That's scary. In every minute, 20 acts of fraud occur. When you keep adding up the numbers it looks horrific. Most victims don't know until it's too late that they have become a victim of identity theft. If you are one of the victims of identity theft, we have listed a few things for you to do:
Contact the Federal Trade Commission (FTC) whether online or by phone, 877-438-4338.
If necessary, send mail certified and request a return receipt.
Contact your bank and let them know of the fraud.
Contact all of your credit card companies and credit reporting agencies (Equifax, Experian and Trans Union) and inform them of the situation.
Contact your insurance companies and make them aware of the theft.
Keep a detailed filing system. Keep all your originals, only send copies of originals to requestors.
Follow all deadlines. Keep a timeline of when you spoke to a person and set up a follow up date.
Following the above guidelines will help minimize any future thefts. We hope that you never have to use this list.