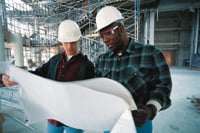 Your supervisors play a crucial role in managing your workforce to ensure high productivity, quality, and safety outcomes. They need to have performance management (leadership) skills.
Communicating productivity expectations to employees, including coaching and counseling them to meet these goals, learning how to balance the need for production and concern for workers.
There are four possible scenarios in this balance:
Low concern for both the workforce and productivity ("minimal management"). This will displease both management and workers, meaning the supervisor won't be around long.
High concern for people, but little interest in production ("Country Club management"). This will please workers, while making management unhappy.
High concern for productivity, with little regard for the workforce ("autocratic management"). Although the company might meet its short-term goals, workers will be dissatisfied, leading to turnover and absenteeism issues that will make it tough to meet long-term production.
A balanced high concern for both productivity and workers ("team management"). This is the best scenario because the project will probably exceed productivity goals, due to an involved and engaged workforce.
Good supervisors need management skills, but great supervisors must also have leadership skills. Managers do things right, while leaders do the right things. Managers get workers to achieve productivity goals, while leaders get them to exceed these goals.
The "situational" leadership approach gets the best results by combining elements of other leadership styles, "autocratic," "democratic," and "participatory." To lead effectively, your supervisors must demonstrate integrity, fairness and a respect towards all workers, based on understanding immediate needs of the employees.
How well do your supervisors meet this test?