Halloween is fun for many kids and families, but vandalism, property damage and insurance claims increase during Halloween. Protect your property this October with these tips.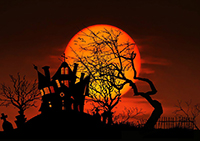 Turn on the Lights
Reduce the risk of a burglary when you turn the lights on and make your home look occupied. Consider installing motion sensor lights, too, to deter criminals.

Install Security Cameras
See what's happening around your property with security cameras. You can also install a doorbell camera to determine if trick-or-treaters or tricksters are on your porch.
Lock the Doors and Windows
Even if you're home to pass out treats, lock your doors and windows. Don't give burglars the chance to enter the back of your home while you sit out front.
Hide Valuables
Don't keep valuables in plain sight. Remember to hide your new TV box and similar items, too.
Talk to Your Neighbors
Make friends with your neighbors to improve security on your block. You can watch each other's homes and deter or report suspicious behavior.
Remove Tripping Hazards
Loose branches, kids' toys, extension cords, and other debris can cause trips or falls. Spend time cleaning up your yard and porch as you reduce this risk.
Light Walkways
Install lighting along your sidewalk and porch to prevent trick-or-treaters from tripping. A well-lit property also deters criminals.
Use Flameless Candles
Jack-o'-lanterns are traditional decor, but open candle flames can start a fire. Use flameless or battery operated candles instead.
Lock Outbuildings
Protect your shed, garage and other outbuildings, along with the items they store, from vandals and thieves. Padlock the doors, lock the windows and tie down valuables inside.
Sit Outside
Greet trick-or-treaters from your front porch or yard. While friendly, this action allows you to watch your property and prevents visitors from entering or casing your home.
Secure Pets
Prevent your pets from escaping or running away when you secure them in a crate or interior room.
Seal your Mailbox
If vandals target mailboxes in your area, bring yours inside. You may also wish to tape your mail slot closed to prevent unwanted mail in your home, such as smoke bombs.
Park in the Garage
Protect your vehicle from vandalism and theft when you park it in the garage. Lock the doors and turn on the alarm, too. Alternatively, use a local parking garage or park in a populated or other secure space.
Update your Homeowners Insurance
If your home is damaged during Halloween, you can file an insurance claim. Update your policy now. Be sure it covers vandalism, fire damage and liability.
With these tips, you protect your home this October. They can improve the safety of your property during Halloween.