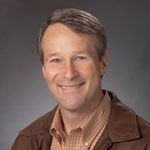 Tony Scurich, Principal/Broker – Scurich Insurance
Born in Watsonville Tony has been in the insurance business since 1981 and with Scurich Insurance since 1983. Tony is married with 3 children, graduated from Watsonville High in 1977 and Santa Clara University in 1981. Past and present community activities include board member of St Francis High School, Pajaro Valley Historical Association, YMCA (board member and youth basketball coach), Boy Scouts of America and, Pajaro Valley Chamber of Commerce (board chair in 2004).
Tony specializes in all types of insurance but mainly in Agriculture, Contracting, and Agriculture related services. Being in touch with 50-60 customers a week, the toughest part of his job is balancing the various moving parts of the insurance business, making sure his customers are taken care of as well as keeping on top of the underwriting. If there was one thing Tony could say to single people who are young and just starting out on their own, it would be to start saving for retirement and looking into a life insurance policy, early planning is key.
Tony feels very fortunate with Scurich Insurance. He says that he has a fantastic staff and is very confident that things will always be taken care of. Because of his great staff, he has very positive feedback from his customers. Scurich Insurance is definitely a company that gives you peace of mind knowing that you are well covered and fully supported.
Check out more about Tony Scurich and Scurich Insurance at www.scurichinsurance.com
 320 East Lake Avenue, PO Box 1170
Watsonville, CA 95077-1170
Office: 1-831-722-3541
Toll Free: 1-800-320-3666