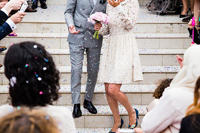 June is the most popular month of the year for weddings, and you want your special day to be perfect. What happens, though, when things don't go as planned? Purchase wedding liability insurance to cover your loss or hardship.
Who Does Wedding Liability Insurance Protect?
The average wedding costs $20,000. Traditionally, the bride's parents paid for the wedding. Today, though, the couple usually foots at least a portion of the bill. Protect your investment with wedding liability insurance.
This coverage can protect you and the venue, including the rehearsal dinner location and reception hall. Whether you get married in a traditional church or synagogue, plan a destination wedding or choose a nontraditional venue like a museum, park, zoo or forest, you can be covered if accidents happen.

What Does Wedding Liability Insurance Cover?
Accidents and other unfortunate incidents can wreak havoc on your wedding day.
A guest may trip and injure himself while walking down the aisle before the ceremony.
Someone may get sick after eating the shrimp cocktail appetizers.
A bridesmaid might knock over an expensive item in the reception hall as she tries to catch the bouquet.
One of your guests may drink too much and fall while dancing.
These and other accidents could result in expensive lawsuits or medical liabilities for you and your loved ones.
Purchase liability insurance to protect yourself. The policy gives you peace of mind that even if something happens, you have financial coverage. It's not a fun expense like your dress, cake or rings, but it is important as you start your marriage on solid financial footing.
What are Some Features of Wedding Liability Insurance?
When choosing liability coverage, look for a policy that meets your needs. There are several features you may wish to consider.
It should cover you, your soon-to-be spouse and both sets of parents.
The locations of your rehearsal dinner, ceremony and reception should be covered for one low price.
It can be purchased up to the day of your wedding.
The coverage may include liquor liability to protect you and the venue against alcohol-related accidents.
If you purchase coverage online, a certificate of insurance is emailed to the venue.
You may receive a discount if you also purchase wedding cancellation insurance.
The limit options should be flexible to meet your needs and budget.
Your insurance agent can discuss all these details with you as you choose the features that you want.

How do you get Wedding Liability Insurance?
Your insurance agent can provide you with this valuable coverage. Talk to him or her today about how to get a wedding liability insurance policy that protects you or your loved ones on that special day.