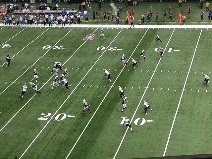 Sometimes new is not always better.  This is what the 49er family is finding out after closing down Candlestick Stadium and moving into their new, "bigger, better," Levi Stadium.
Levi Stadium started construction April 19th, 2012 and opened its doors on July 17th, 2014.  The total cost of the project was $1.3 billion.  So you think with spending that kind of money the stadium would be in perfect condition.  But it's not.  It has had a fair share of problems since opening day.  For instance:
The traffic is a nightmare.  Didn't matter if you drove or took the train, you were stuck sitting and waiting.
All the hub over the stadium being the most technically advanced, is having a hard time living up to that promise.
During the 49er-Bronco game any concessions had to be paid in cash as the cashiers didn't have access to the point of sale programs.
And now?  The turf.
The $1.4 million turf that was installed was quickly destroyed in the 49ers practice on August 20th.  Within 45 minutes of the public practice, where 30,000 fans came to watch their beloved team play, they were given vouchers to the stadium museum and practice finished in another location behind closed doors.
Let's see if the problems get worked out before we get too deep into the season.
Content provided by Transformer Marketing.
Sources:  http://www.santacruzsentinel.com/localnews/ci_26379292/levis-stadium-turf-being-replaced