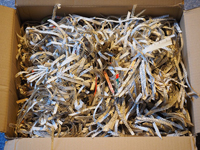 Do you have a pile of papers collecting dust on your desk, in your filing cabinet or in a safe? Instead of stockpiling every electric bill, tax return and retail receipt from the last 20 years, learn which papers to keep and which to toss.
Bank records – Shred your checking and saving account statements monthly or after you reconcile your accounts.

Credit card statements – Shred them after you pay the bill except if you need to prove a charitable donation for your tax return.
Health records for humans and pets – Keep medical records and paperwork that documents your health history, including details about medications, immunizations, x-rays, medical tests, surgeries and major health events.

Instruction manuals – Keep these papers until you sell the item.
Insurance policies – Save copies of your auto, home or renters insurance policies to prove you're covered and to compare coverage during your annual renewal. Shred the old copies when you get new ones.
Investment statements – Shred monthly and quarterly statements but keep annual ones until you sell the investments.

Loan documents – Shred closing documents for loans after you pay them off.

Pay stubs – File with your tax return information until you file your taxes and then shred them.
Retail receipts – Shred or toss receipts after you reconcile your receipt with your budget. Keep them if you need to return an item, purchase items that are eligible for a tax deduction or wish to retain proof of an item's original cost.

Savings bonds – Keep them until you cash them in.
Tax returns – Retain them and any supporting documents for seven years in case you are audited.
Utility bills – Review each month's bill for errors then shred them.
Vehicle records – Retain receipts, registration info, titles and maintenance and repair records until you sell the vehicle.
Warranties – Store these until you sell the item.
The following papers you should store in a safe place indefinitely. Consider making copies of these documents, too, and storing them in a location outside of your home.
Birth certificates
Social Security cards
Marriage licenses
Divorce decrees
Military service records
Pension-plan documents
Estate-planning documents that pertain to your will, power of attorney, end of life and trusts
Life insurance policies
Death certificates
Whether you store your papers in a pile on your desk or in a safe deposit box, reduce clutter when you understated which papers you need to keep. For more details on reducing paper clutter while maintaining the protection you need, talk with your insurance agent.