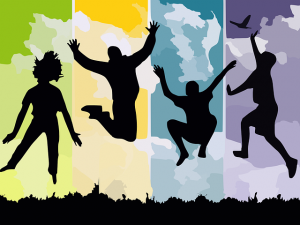 Happiness is not elusive.  In fact, it's pretty easy to attain.  Follow the steps below to happiness.
Take time to just breathe.  In this crazy world, we are trying cram 1,000 things into our lives.  The one thing we really need to do is take 15-20 minutes out of your day and just sit and meditate and breathe.
Sitting down all day.  It's no secret that sitting down all the time isn't healthy.  It restricts blood flow, doesn't burn any or very little calories, and increases your chance of cardiovascular disease.
Be a social butterfly.  People with strong social connections tend to be much happier.  That's what life is all about, so get connected.
Join a spiritual community.  Religion has played a huge role in a person's happiness by offering a place to share their struggles and joys.   Not holding onto life's stressors and giving them over to a higher power releases stress and anxiety.
Feed your creativity.  Take time out and paint a picture, write a story, enjoy an art museum, whatever feeds your creative soul.
Get outside!  Not getting fresh air can make a person grumpy.  Just ask any of the kids today that never leave their X-Box.  They are cramped, unhappy and need to get out and play.
Love your job or quit.  When you have a job that you love, you'll be happier.  Considering you have to spend 8 hours of your day at your vocation.
The more the merrier!  Italians love to eat together and they know that eating together makes people happy.
Believe in yourself!  You deserve happiness, yes, it's for you.  Believe that you are entitled to be happy.  Because you are entitled to have joy in your life.
So go on and choose to be happy!
Content provided by Transformer Marketing.